If you are a lover of cheesecake you are going to fall in love with Burnt Basque Cheesecake.
Full of beautiful rich flavours this cheesecake will not be the cheapest to make but it will be the easiest and most favoured one you will ever make.
Be sure to use a spring form pan and line it with baking paper as it will save you any stress after it is cooked.
This recipe I have taken from elsewhere on the internet and it has become a favourite in our home. The recipe is apparently the original Spanish La Vina Sans Sebastian Recipe.
Yum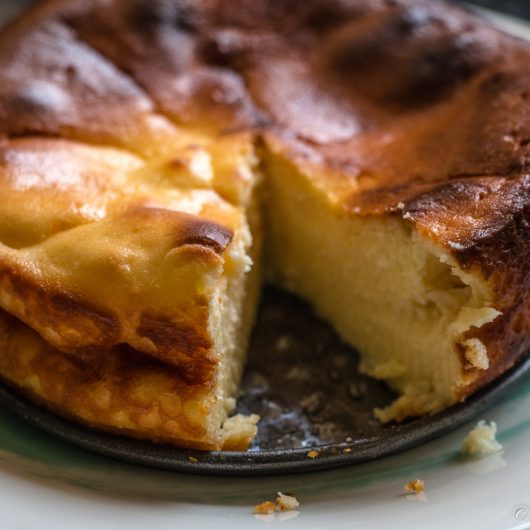 Burnt Basque Cheesecake (La Vina Original)
Simple to make and heaven to eat
Ingredients
1

kg

Cream Cheese

7

Eggs

large

2

cups

Sugar

Note: for a slightly less sweet cheesecake use only 1.5 to 1.75 cups (300-350g)

1

tbsp

Plain Flour

200

ml

Heavy Cream

200ml or 4/5 of a cup.
Instructions
Preheat the oven to 410°F (210°C).

Using an electric mixer, whisk, or a metal spoon combine all the ingredients in a large bowl until smooth and creamy.

Line a 10" (25 cm) springform pan or round baking pan with enough parchment (baking) paper that so it extends past the edges of the pan. This will prevent it from sticking. You can use a smaller pan for a higher cheesecake but may need to bake longer so that the center isn't too runny.

Bake on the centre rack for 35-50 minutes. The cake will rise quite a bit but don't worry — it will settle when it's out of the oven.

If it isn't quite burnt enough on top I turn the heat up for another minute or two, being careful it doesn't burn too much! If you like the center very runny, remove at 35 minutes.

When the cake is brown and almost burnt looking, turn the oven off. The centre shouldn't be completely set. It will wiggle a lot when you move the pan (like jelly).

Let it start to cool gradually by leaving it out on the counter. After an hour or so, move the cake to the fridge to cool completely.

After a few hours in the refrigerator (overnight is even better), your cheesecake should be chilled enough to cut. Don't remove the cake from the parchment paper until it's ready to be cut, plated, and devoured (as it can start to lose its shape).
Notes
Nutrition
Calories:
898
kcal
Carbohydrates:
70
g
Protein:
15
g
Fat:
64
g
Saturated Fat:
37
g
Polyunsaturated Fat:
3
g
Monounsaturated Fat:
17
g
Trans Fat:
0.02
g
Cholesterol:
340
mg
Sodium:
519
mg
Potassium:
279
mg
Fiber:
0.04
g
Sugar:
67
g
Vitamin A:
2579
IU
Vitamin C:
0.2
mg
Calcium:
183
mg
Iron:
1
mg
Visit eBay for the best Cooking bargains